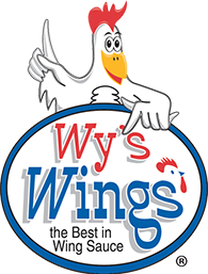 Wy's Wings & Wy's Original Sauces have always been about flavor first, heat second.
Our heat levels are all in the mainstream and range from very mild to restaurant caliber X-hot, nothing more.
Having said that, even fans of culinary heat will enjoy the flavor of our sauces regardless of heat level. Our Mild Buffalo Wing Sauce for example is so flavorful that even heat-lovers will thoroughly enjoy eating Wings made using it.
We do not use anything artificial in our sauces and any heat comes from natural ingredients being the peppers themselves. We use no extracts nor ever will. The flesh, and therefore the flavor, of the peppers goes into the sauce right along with the heat elements of the peppers.
Our goal is to produce sauces that the vast majority of the population can enjoy, not sauces that appeal to only a very small number of people.
Through extensive research we strive to create each sauce as the best in its genre prior to releasing it. This often takes years in the development process.
We have fun making them and hope that you enjoy using them as much as we enjoy making and using them!
- Mark/Wy