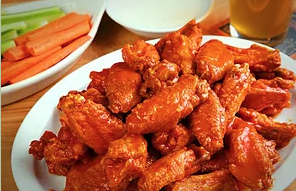 If you are a restaurateur or business person interested in creating a "Best of" concept in the restaurant & hospitality industry, please Contact Us.
Thinking About Buying into a Wings Franchise?
Have you considered starting your own and being at the top of the venture instead of taking mandatory direction from corporate?
If so, please contact us!
Be the corporate!
There are numerous business propositions and partnering arrangements that we would consider. We would strongly consider offering exclusives outside the state of Virginia as well.
In addition to manufacturing and providing sauces, Wy's corporate chef can create additional sauces per your preferences as well. We have the products and experience to work with you to create the best Wings/Boneless-Wings fast-casual take-out concept in the country. We have a concept that is destined for industry-wide recognition as a paradigm-shifing concept.
Wy's founder and owner also has academic specialization and experience in restaurant process layout for purposes of reducing labor and increasing efficiency as well as in world-class customer service. We specialize in fast-casual on the restaurant side.
So before you take the plunge and become hamstrung by burdensome agreements, contact us for information on starting your own concept with our help and to our mutual benefit in the region/state of your choice. If we had a dollar for everyone that has approached us having said that they wish they had started with us instead, ...